4.9

out of

5

based on

12

reviews.

Overall rating:
Independent Air and Heat wants to THANK YOU all our customers who took the time to review our service. We are dedicated to provide the very best, fast and reliable service now and in the future.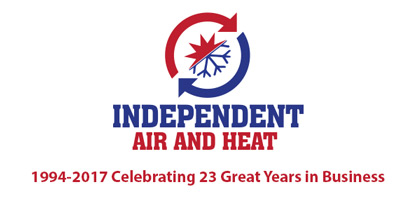 WE STRIVE FOR FIVE

Tell us how you like our service.
Read what our clients have to you say about us:
Air Conditioning not working
★★★★★
"
Thank you for your excellent service. Your technician was on time, fixed our problem and was very friendly. I will recommend your company to my friends and family.
"
Attic Insulation
★★★★★
"
Independent Air and Heat just updated our attic insulation a few months ago. Immediately we could feel the difference and our power bill is going down. Great Job!
"
Needed new AC
★★★★☆
"
Kevin did an excellent job on helping us to pick the right equipment for our house. The technician did a great on the installation. We are so happy to have a cool house again. Thanks you guys.
"
No heat
★★★★★
"
I had no heat and I called Independent Air and they came right out and fixed my problem very fast very professional staff great service and very reasonable prices I joined the club thank you Independent Air for the great service
"
Great customer service
★★★★★
"
The customer service was absolutely amazing! Would recommend to everyone! Very knowledgeable with their work.
"
"Job well done"
★★★★★
"
We have a Trane Unit that was placed into service in 1985. For the past several years Independent Air & Heat has performed annual PM service. We were most impressed with our last service call on May 2, 2017 when the technician did a very thorough check of the system and found a faulty part. The part was replaced, and the normal PM procedures were done in a very efficient manner. We appreciate the service you have provided in keeping our "old" reliable Trane running. I would give you 5 stars and recommend your service to anyone who might ask for a referral.
"
Amazing service!!
★★★★★
"
Always fast & friendly service!!! Great to know we can trust Independent to always keep us cool!!
"
Wonderful service!
★★★★★
"
I am always happy with the great people who come to fix my AC- so polite & efficient and never have to wait to long!!
"
service call
★★★★★
"
Your technician Joe came to see why we weren't getting good cooling. He was able to diagnose the problem , but as we had guests, he was very careful to get us aside and not discuss our options in front of them. I really appreciate his sensitivity and awareness of the situation. Thank you. Barbara Mars
"
AC service
★★★★★
"
Joe was professional, very helpful, knowledgeable and pleasant with our problem.
"
Thanks!
★★★★★
"
Just want to thank you for an excellent checklist on your website. After checking everything I could think of I had resigned myself to an expensive service call on a weekend. But after going through your checklist I had not checked the water safety device located by the air handler. After checking that and clearing the drain pipe my air conditioner started back up! So thank you!!
"
Awesome Service
★★★★★
"
Thank you for getting my home cool again!
"